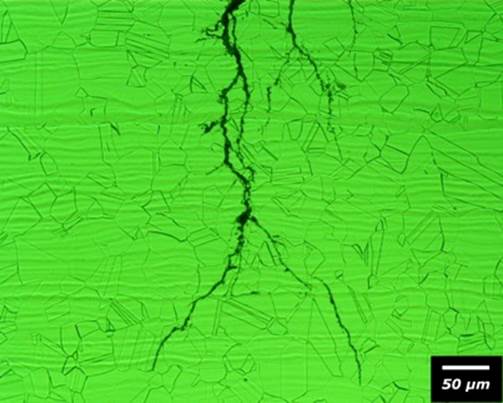 Crack Appearance
The typical crack morphology for chloride stress corrosion cracking consists of branched transgranular cracks.  Figure 1 shows the cracking that occurred on a 6Mo super austenitic stainless steel (N08367) exposed to 0.2% chlorides at 500 °F (260 °C).
Environmental Factors
The environmental factors that increase the cracking susceptibility include higher temperatures, increased chloride content, lower pH, and higher levels of tensile stress.  Temperature is an important variable. When stainless steels are fully immersed, it is rare to see chloride stress corrosion cracking at temperatures below 60 °C (150 °F).
There is a synergistic relationship between dissolved oxygen and the chloride level.  If the oxygen level is reduced to the 0.01 to 0.1 ppm range, aqueous solutions containing low to moderate chloride levels are not likely to crack austenitic alloys, such as 304L and 316L.  The normal solubility of O2 in water at room to moderate temperatures (e.g. up to 140°F/60°C) is 4.5 to 8 ppm at atmospheric pressure.
In actual service environments, evaporation can produce a local build-up of aggressive corrosive substances, such as chlorides and the H+ ions, resulting in conditions that are substantially more aggressive.  Under severe evaporative conditions, stainless steels can crack at temperatures well below the thresholds measured under conditions where there is full immersion. Because of this, one must use caution when specifying materials for applications that involve the evaporation of chloride-bearing solutions on hot stainless steel surfaces.
The Materials Technology Institute (MTI) of the Chemical Process Industry has reviewed the literature and collected case histories to define guidelines for the chloride SCC susceptibility of types 304L and 316L stainless steel in neutral water environments.
Figure 2 shows the cracking threshold for 304L and 316L stainless steel as a function of temperature and chloride content.  The level of chlorides required to produce cracking is relatively low. Failures have been reported in environments with as little as 10 ppm chlorides.  This is particularly true for environments having concentrating (evaporating) mechanisms such as wet/dry interfaces or a film of solution in immediate contact with a heat-rejecting surface.  In these situations, a few ppm of chlorides in the bulk solution can concentrate to hundreds of ppm in the area of evaporation.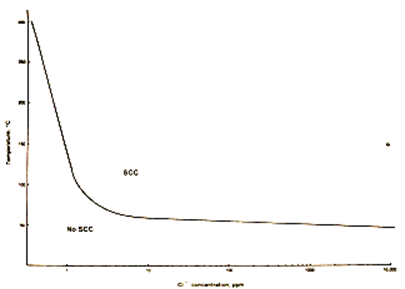 The cracking threshold of a 6Mo super austenitic stainless steel (UNS N08367) immersed in oxygen-bearing neutral chloride solutions is shown in Figure 3.  The temperature thresholds are well above the 212°F (100°C) range, indicating that exposures to atmospheric boiling in neutral chloride solutions are very unlikely to produce cracking.