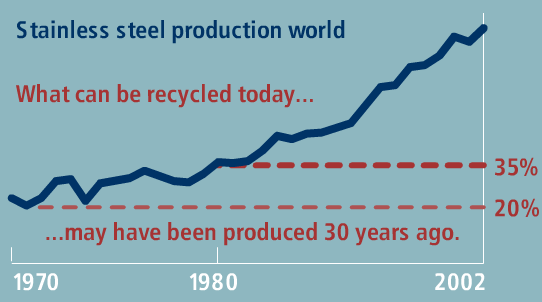 Summary
The stainless steel that our industry recycles today may have been out unto the market 20 or 30 years ago. The graph of stainless steel production was far lower than it is today. The long-term average growth rate of stainless steel has been about 5% per annum. Even if 100% of the stainless steel produced was returned, the available material could account for only:
35% of today's production of the average useful life is 20 years.
20% of today's production if the average useful life is 30 years.
With an average content of 25% of old scrap, stainless steel is close to the theoretical maximum content of material from end-of-life products. The recycled content is only limited by how much stainless steel was put into the recycling loop decades ago.
The unparalleled growth of stainless steel production and use explains why, in 2002, 8 million tons of virgin material had to be put into the recycling loop along with the 12 million tons of recycled material. Stainless steel is not consumed, it remains part of the sustainable closed-loop system. Unlike many other engineering materials, stainless steel is recycled without any degradation!
The selection of stainless steel brings performance and the protection of our natural resources together.